Whenever we visit the dental office, one of the procedures involved is the dentists checking the condition of our mouth and teeth, and taking records. Some of the more common examples of dental records are photographs, dental charts, X-rays, and even dental impressions. These records help our dentists document important details in our mouths so that they do not miss out on anything while ensuring our teeth are in tip-top condition. One of the newest technologies that advance the way dentists take records of their patients' mouths is a 3D Dental Scan.
Without a doubt, technology changes the way we live and paves the way for the future. Technology in the healthcare sector has been advancing rapidly in the past decade and when combined with dentistry, it is making dental procedures way safer now than they used to be fifty years ago while providing us with much more predictable results.
One of the contributing factors to better dental care is the advent of better diagnostic tools, such as 3D Dental Scan and Cone Beam Computed Tomography (CBCT) which can now process images in both two and three dimensions, granting dentists a brand new angle of looking at anatomical structures in the mouth that was previously obscured.
3D Dental Scan has been around since the 1980s. With more and more dental offices adopting the 3D Dental Scanning technology, the 3D Dental Scanners market is projected to grow by a Compound Annual Growth Rate of almost 12%, exceeding USD 700 million in the next 5 years, making it the future of records taking and diagnostic tools in dentistry.
What is a 3D scan for teeth?
In its simplest form, a 3D scan for teeth can be understood as an optical camera that captures multiple images of your teeth using lasers and then combines them into a 3-dimensional figure that can be displayed on the screen for dental professionals to view and use. This data is then kept as digital records and can be stored or transferred easily.
If you're planning to undergo or have undergone restorative or cosmetic dental procedures, chances are that you have experience in getting an impression done by the dentists. Dental impressions are an impression of your teeth and surrounding oral structures captured by using various materials. They are then used to create a model of your teeth and gums in the lab. Compared to an impression, a 3D scan essentially has the same function, that is to capture the details of your teeth structures with good accuracy to make a good record, but without the use and handling of messy impression materials. 
3D scan for teeth is simple, fast, efficient, more comfortable, and is as accurate as an impression. 3D scan is so accurate that it can record details as small as 0.1mm, which is as thin as a strand of hair. In short, it is a modern way, with the use of technology, for dental professionals to capture and record your teeth structures, just like a dental impression. In addition, it can be viewed instantly and shared easily among dental offices and labs. 
What is the difference between 3D scans, X-rays, CT, and CBCT scans?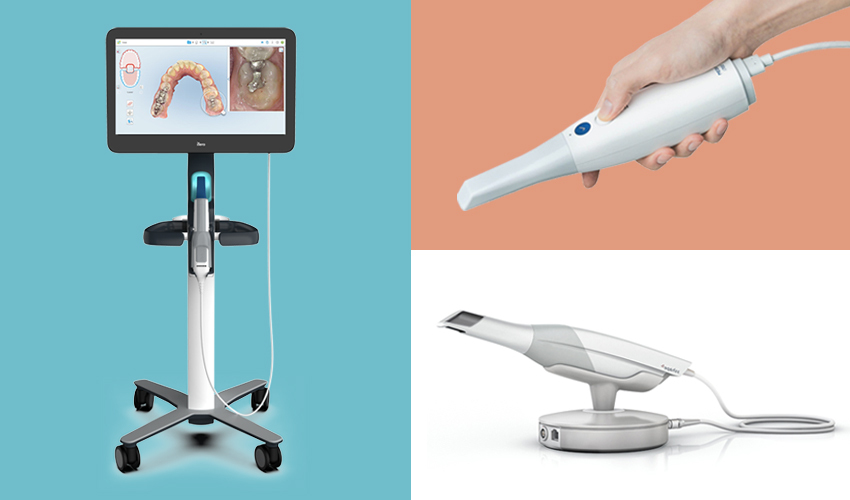 There are many types of imaging a dentist can choose to observe what's going on inside your oral cavity. The most frequently used types of imaging are
3D intraoral scan
X-ray
Computed Tomography (CT) scan
Cone Beam Computed Tomography (CBCT) scan
| TYPE OF SCAN | FUNCTION | MECHANISM | RADIATION RISK |
| --- | --- | --- | --- |
| 3D Intraoral Scan | To produce 3D digital impressions of teeth and gums | Visible light radiation | Nil |
| X-ray | Produces 2D images of hard tissues of the body | High energy electromagnetic radiation | Low |
| Computed Tomography (CT) | Assess cross-sectional images of the body | High energy electromagnetic radiation | High (compared to X-rays and CBCTs) |
| Cone Beam Computed Tomography (CBCT) | Produces 3D images of hard tissues of the body | High energy electromagnetic radiation | Medium (compared to X-rays and CTs) |
How much is a 3D dental scan?
Around RM100-350
Since a 3D dental scan is often considered to be a part of examination and record taking during dental visits, there is usually no separate fee for performing a scan. The cost of a scan is usually included in consultation and check-up charges or the treatment. Therefore it is estimated to be around RM100-350, depending on the geography and practice.
It is interesting to note that the price of a 3D dental scanner is approximately RM70,000-130,000 in Malaysia. Therefore the cost of a dental scan should take into account the investment in the price of the scanners, in addition to the time, skills, and expertise to take the records. 
How is a 3D dental scan done? How long does it take?
An average of 2-5 minutes.
A 3D dental scan is a comfortable, simple, and fast process. It is done by using a 3D dental scanner, in which the camera is small and can be placed into the mouth without any discomfort. The operator will hover the 3D dental scanner on top and around your teeth to capture the details. Afterwards, a 3-dimensional image will appear on the screen and it can be checked for accuracy.
It takes only an average of 2-5 minutes to complete the scan, as little as the time it takes to brew a cup of coffee or tea. You will be amazed by the efficiency of 3D dental scanners.
Are 3D dental scans safe? Is there radiation?
A 3D dental scan is safe even for pregnant women. Unlike other imaging techniques such as X-Rays or CBCT scans, a 3D dental scanner uses visible light radiation for its function. 
It can be compared to using a camera, which is very safe, rather than with medical imaging techniques that produce potentially harmful radiation. Hence, it does not produce any radiation concerns like X-rays or CBCT scans.
What is 3D imaging used for?
3D imaging is very useful in a variety of dental procedures, such as in orthodontic treatment, implant, and restorative dentistry such as crowns and bridges. If you have had experience with these procedures, you may have already come across this form of diagnostic imaging that assisted in your procedure. 
3D imaging captures the entire oral structure with great details and allows dental professionals to view and even plan their treatment using 3D images. It is a very useful and advanced diagnostic tool that helps dentists deliver their treatment better.
What are the advantages of 3D imaging?
3D imaging is being adopted by more and more dentists to get a clear and concise picture of what's going on inside your mouth. 3D imaging is used by dentists to digitally develop three-dimensional images of the mouth and teeth. Your dentist will then be able to consult a problem from all angles and get a clearer picture of your anatomy, which in turn leads to more comprehensive treatment planning and better treatment execution. 
Other than that, 77% of patients prefer 3D imaging over conventional impression taking. This is largely due to the process being more comfortable, faster, and clean. Storage and transfer of information are also instant, keeping pace with how fast the world is moving towards the future right now. 
How can 3D dental imaging improve my oral health?
3-dimensional dental imaging is very useful to help your dentist catch small issues (if any) early before they progress into a larger problem. Sometimes, some minor issues may go unnoticed when observed by the naked eye, but once it has been rendered out on a computer screen sans all soft tissue obstructions, the dentist can isolate trouble spots and deal with them pronto. The dentist can reorganize the data collected and magnify the image as desired.
Besides, once your scan has been done and information stored, it can act as a record. In the future should you develop any changes or wear in the teeth, which is quite common, the scan can be used to detect and compare the changes up to even a few millimetres.
3D scan and become Invisible Braces
If you are considering orthodontic treatment, but are worried by the discomfort of the entire experience, fear not! With become invisible braces, there are no messy impressions or radiation involved. 
Start your journey by visiting the nearest partner dentist for a completely painless and simple 3D scan of your teeth. Using the 3D scan, which assesses the conditions of each of your teeth and its surrounding structures, the dental professional team at become can diagnose your malocclusion and come up with a treatment plan that will help you achieve your best smile.
A custom smile makeover plan will then be sent over to you via email, for you to review. Once it's approved by you, you can proceed with the purchase and after that, all you have to do is sit tight and wait for your complete set of invisible braces to arrive, delivered right to your doorstep.
References:
Mo¨rmann W, Brandestini M, Ferru A, Lutz F, Krejci I. Marginal adaptation of adhesive porcelain inlays in vitro. Schweiz Monatsschr Zahnmed 1985; 95: 1118.
Technavio Research (2021, Feb 25). 3D Dental Scanners Market to Grow by USD 722.59 Million During 2021-2025|Evolving Opportunities with 3M Co. and 3Shape AS|Technavio. PRNewswire. https://www.prnewswire.com/news-releases/3d-dental-scanners-market-to-grow-by-usd-722-59-million-during-2021-2025evolving-opportunities-with-3m-co-and-3shape-astechnavio-301235266.html
Logozzo, S., Zanetti, E.M., Franceschini, G., Kilpelä, A. and Mäkynen, A., 2014. Recent advances in dental optics–Part I: 3D intraoral scanners for restorative dentistry. Optics and Lasers in Engineering, 54, pp.203-221. 
Mangano F, Gandolfi A, Luongo G, Logozzo S. Intraoral scanners in dentistry: a review of the current literature. BMC Oral Health. 2017;17(1):149. Published 2017 Dec 12. doi:10.1186/s12903-017-0442-x
Chiu A, Chen Y-W, Hayashi J, Sadr A. Accuracy of CAD/CAM Digital Impressions with Different Intraoral Scanner Parameters. Sensors. 2020; 20(4):1157. https://doi.org/10.3390/s20041157
Optical Impressions in Odontology (2020, Nov 12) Owandy Radiology. https://www.owandy.com/optical-impressions-in-odontology/
National Institute of Biomedical Imaging and Bioengineering. (n.d.) X-rays. Retrieved August 26, 2021, from https://www.nibib.nih.gov/science-education/science-topics/x-rays#pid-1116
National Institute of Biomedical Imaging and Bioengineering. (n.d.) Computed Tomography (CT). Retrieved August 26, 2021, from https://www.nibib.nih.gov/science-education/science-topics/computed-tomography-ct#pid-1036 
Dental Cone Beam CT. (2019, Jan 30). Radiologyinfo.org. https://www.radiologyinfo.org/en/info/dentalconect
Ahmad Al-Hassiny (2019, Dec 2) Medit i500 Review – the next big IOS? Institute of Digital Dentistry. https://instituteofdigitaldentistry.com/cad-cam/medit/medit-i500-review/
Alison Werner (2019, Feb 21) 3SHAPE LAUNCHES ENTRY-LEVEL TRIOS 3 BASIC INTRAORAL SCANNER. Orthodontic Products. https://orthodonticproductsonline.com/practice-products/imaging/intraoral-scanners/3shape-launches-entry-level-trios-3-basic-intraoral-scanner/
Stephanie Jugovich (2018, May 8) 3D Scans: The Future of Dentistry. Pike Lake Dental Centre. http://pldduluth.com/2018/05/08/3d-scans-the-future-of-dentistry/
Wright Orthodontics. (n.d.) iTero® Scanner and Pregnancy: Is It Safe?  https://www.drwrightortho.com/itero-scanner-and-pregnancy-is-it-safe/
Vasudavan S. Sullivan S.R. and Sonis A.L . ( 2010 ) Comparison of intraoral 3D scanning and conventional impressions for fabrication of orthodontic retainers. Journal of Clinical Orthodontics 44, 495 – 497